Purchasing new window coverings for your home is an investment, so it's wise to schedule an onsite consultation with us at Ashtons Blinds before you make a final decision and to explore your options. Here are several reasons why having us perform an onsite consultation before your purchase is beneficial. Once you're ready to schedule your consultation, make sure you give us a call!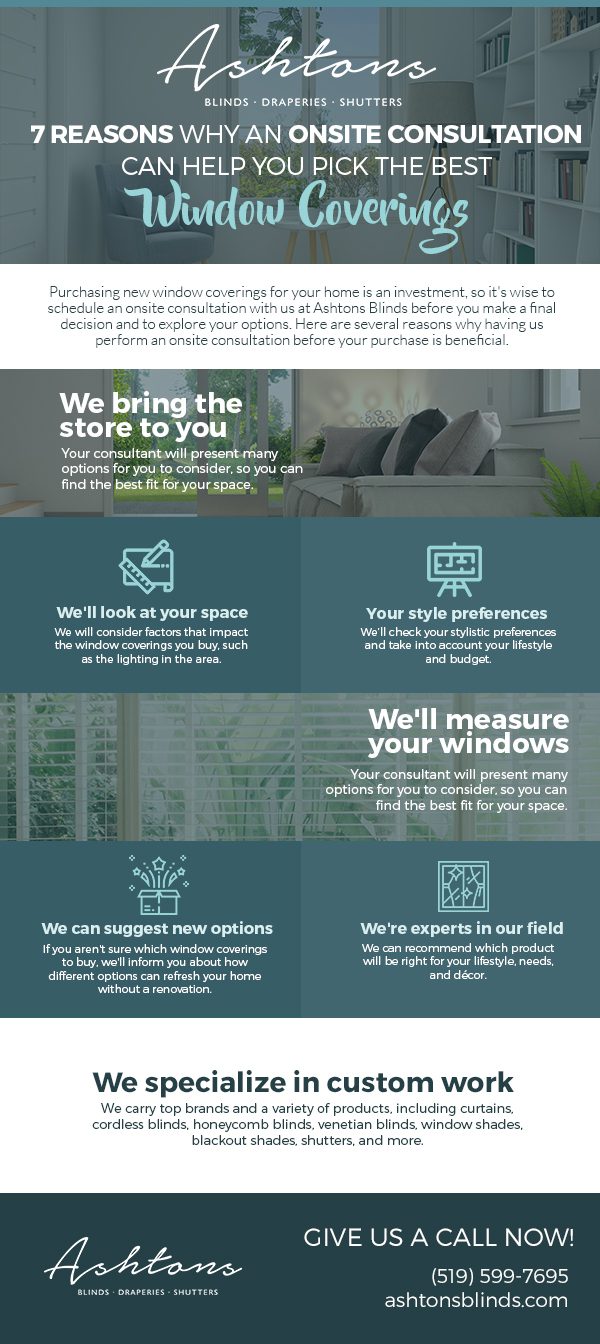 1.   We bring the store to you—Your consultant will present many options for you to consider, so you can find the best fit for your space.
2.   We'll look at your space—We will consider factors that impact the window coverings you buy, such as the lighting in the area and the windows in question.
3.   We'll solidify your style preferences—Before making suggestions for your window coverings, we'll determine your stylistic preferences and take into account your lifestyle and budget.
4.   We'll thoroughly measure your windows—We want you to love your window coverings for years to come! For this reason, we'll complete a thorough, custom measurement of your windows, ensuring a smooth process from the consultation to installation.
5.   We can suggest new options—If you aren't sure which window coverings to buy, we'll inform you about how different options can refresh your home without a renovation. Simply changing your window coverings changes the way light enters the room and provides plenty of options to maintain privacy from the outside world.
6.   We're experts in our field—Thanks to our expertise when it comes to window coverings, we can recommend which product will be right for your lifestyle, needs, and décor.
7.   We specialize in custom work—Custom work is our specialty, and we can fit unusually shaped windows or door coverings. We also carry top brands and a variety of products, including curtains, cordless blinds, honeycomb blinds, venetian blinds, window shades, blackout shades, shutters, and more.