Cleaning your curtains and drapes is a chore that many people dread. This is why we have put together a guide to walk you through the steps of cleaning your drapes and curtains.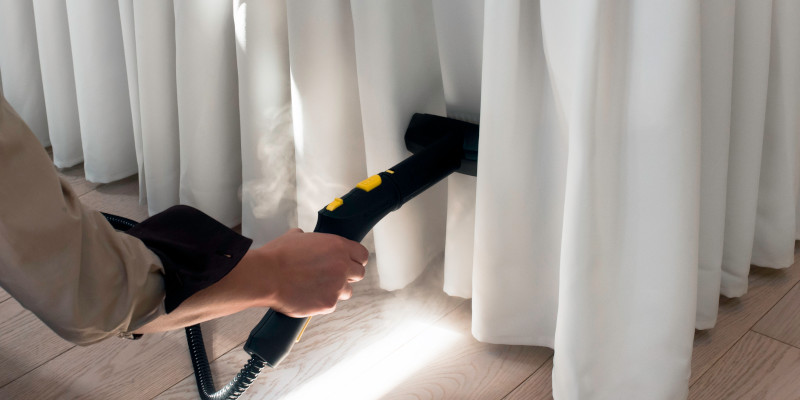 Check Your Label – Before you start to clean your drapes and curtains, always check the label. Commonly, you can find cleaning instructions and recommendations on the label that are specific to that type and brand of fabric.
Perform a Spot Test – No matter if you are steaming your curtains, hand washing, or machine washing, always perform a spot test. A spot test using your detergent will allow you to see how your fabric will react. After the spot test, you'll let the fabric dry thoroughly before determining if it is compatible with your fabric.
Pick Your Method – There are generally five methods to cleaning your drapes and curtains, which are, steam, handwash, machine wash, vacuum, and dry-clean.
Steam – This is one of the easiest ways to clean your curtains. There is no need to remove your curtain from the wall for this one. All you need to do is verify that your steamer has an upholstery attachment and follow the instructions on your steamer.
Handwash or Machine Wash – To handwash or machine wash your curtains, first take down your curtains, shake them out outside, follow the instructions on the label. Depending on the size and fabric of your curtains, we recommend washing one panel at a time if you are machine washing. Then you will hang you curtains outside to dry if it is possible. Once dry, iron your curtains before hanging them back up.
Vacuum – This is another easy method to quickly spruce up your curtains and drapes. Simply use the appropriate attachment to vacuum your curtains front and back.
Dry Clean – If your label suggests dry cleaning, simply take your curtains or drapes to the dry cleaners and have them do the cleaning for you.