It isn't surprising that blinds are one of the most popular window covering options. Here at Ashtons Blinds, we are proud to offer blinds from the most trusted brands in the industry. With our expert installation services backed by more than 15 years of experience, you can be confident of quality results. We offer free consultations at your home or office to assist you with choosing the perfect product for the space, appearance, and budget you have in mind. We believe you'll find the many advantages of window blinds make them an excellent choice.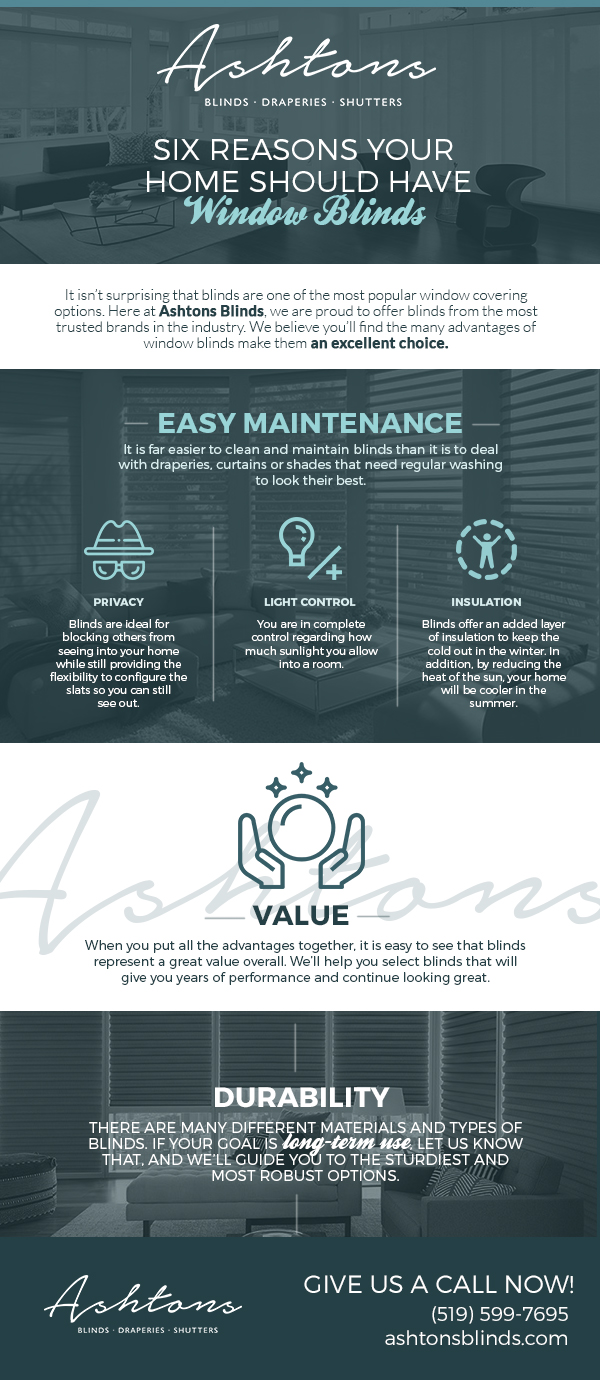 1.   Privacy- Blinds are ideal for blocking others from seeing into your home while still providing the flexibility to configure the slats so you can still see out.
2.   Light Control- You are in complete control regarding how much sunlight you allow into a room. Not only can you adjust the slats, but you can also completely open them when you want maximum light.
3.   Insulation- When blinds are closed, they offer an added layer of insulation to keep the cold out in the winter. In addition, by reducing the heat of the sun, your home will be cooler in the summer.
4.   Easy Maintenance- It is far easier to clean and maintain blinds than it is to deal with draperies, curtains or shades that need regular washing to look their best.
5.   Durability- There are many different materials and types of blinds. If your goal is long-term use, let us know that, and we'll guide you to the sturdiest and most robust options.
6.   Value- When you put all the advantages together, it is easy to see that blinds represent a great value overall. We'll help you select blinds that will give you years of performance and continue looking great.