We offer a wide variety of motorized blinds for your convenience at your Thornbury home or business.
Here at Ashtons Blinds, we are excited to offer a variety of motorized blinds to our customers in Thornbury, Ontario. Whether you are interested in cellular shades, Silhouette shades, roman shades, roller blinds or horizontal blinds, there may be a motorized option available to you.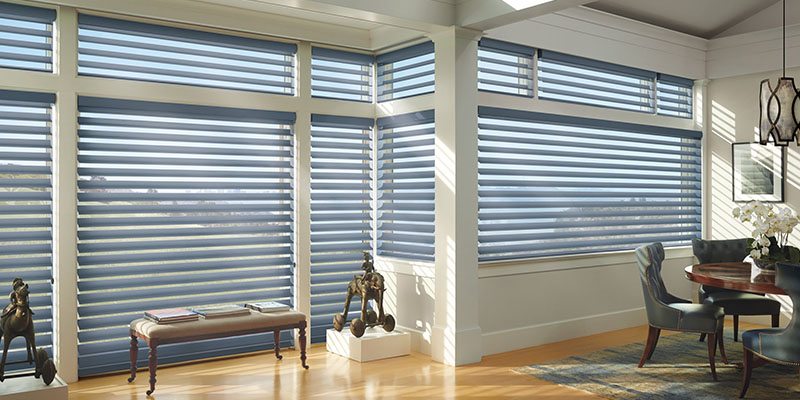 Why choose motorized blinds for your home or business?
Ease of use: Whether your blinds are difficult to reach or right in front of you, motorization makes them easy to control.  With the simple touch of a button, on either a remote or your personal mobile device, your blinds will respond to your command.
Safety: Motorization removes the need for control cords, eliminating hazards for children and pets.
Option to synchronize: Motorized blinds can be synchronized to time-of-day and to the amount of sunlight.  Call today to find out all the options.
Cellular honeycomb, silhouette, roman and roller blinds, along with many other styles of blinds can be motorized to raise and lower the shade.  Wooden blinds, faux wood blinds, and aluminum mini blinds may have the tilt feature motorized to help control the light. Options for powering your motorized blinds include battery packs, solar packs, plugging in the blind into a wall outlet, and hardwiring the blinds at the window. Call today to set up your free in-home consultation.
---
At Ashtons Blinds, we offer motorized blinds to residents of Thornbury, Collingwood, Meaford, Owen Sound, Craigleith, and The Blue Mountains, Ontario.