We have many options for honeycomb blinds to match your lifestyle and décor.
Although honeycomb blinds also go by the name cellular shades, the shaping designed after the honeycomb of a bee hive just seems to fit better. However, since they come in one, two, and three-cell formats, they do vary more than what an industrious bee produces. Whatever you want to call them by, you can count on us at Astons Blinds to go over all the benefits of this type of window covering, so you can decide if it is the best choice for your situation.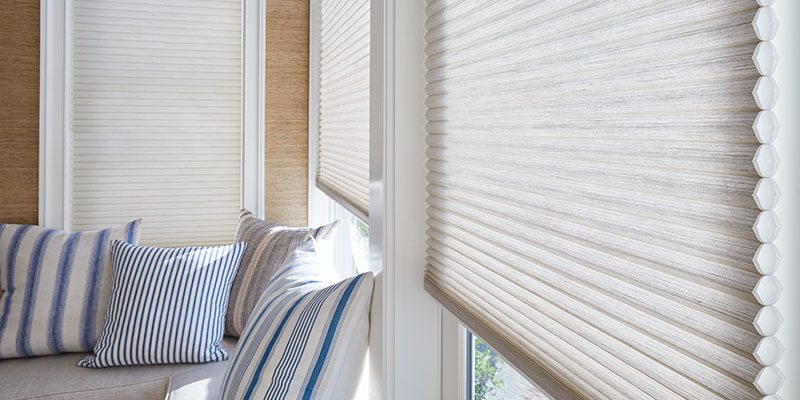 One reason you might choose honeycomb blinds is for insulation. Depending on the material you choose, you can block or filter sunlight that would heat up your home in the summer, so you enjoy energy savings. Another reason is for privacy. When you want to let the sunlight in or have a clear view of the outdoors, they can be moved out of the way. You'll have flexibility there as well with top down and bottom up choices as well as cordless honeycomb blinds, which are safer for children and pets. You can work cordless blinds manually or we can add motorization, which is an ideal choice for hard-to-reach windows.
We can also help you complete the look with valences or draperies if the simplicity of the honeycomb blinds doesn't give you the overall style you desire. With our more than 20 years experience, we are confident you'll fall in love with the results and enjoy them for years to come. To get started, just give us a call to schedule a free in-home consultation. We'll bring samples to your Collingwood, Ontario home so you can see them in your home's lighting and against the other things in your room, such as furnishings, walls, and décor.
---
At Ashtons Blinds, we offer honeycomb blinds to residents of Thornbury, Collingwood, Meaford, Owen Sound, Craigleith, and The Blue Mountains, Ontario.