If you are considering plantation window shutters for your home, you probably have several questions that need to be addressed so you can feel confident you are choosing the best option for your needs. Here are a few of the most commonly asked questions that can help you decide if this is the right window covering for you and, if so, how to choose the right type and care for them after installation.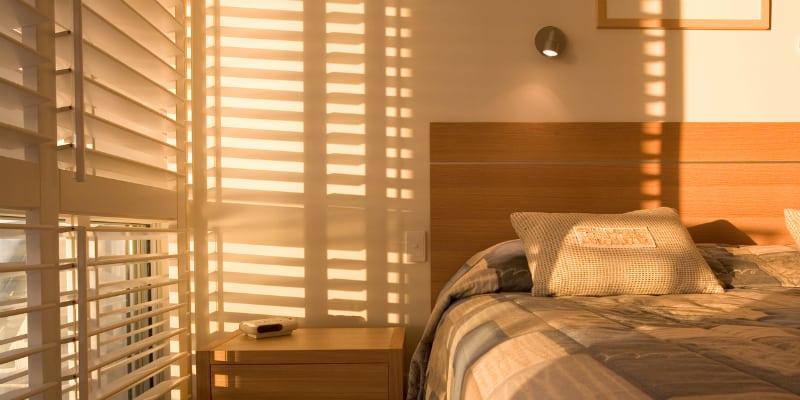 Should I get wood or vinyl window shutters?
There is quite a bit of misinformation out there about window shutters and it is usually one type trying to dissuade you from the other. In truth, both wood and vinyl have their advantages and disadvantages, so choosing will depend on what you hope to achieve. Wood window shutters have a natural strength and beautiful wood grain that is wonderful if you are trying to match natural or stained wood trim or flooring.  Wood shutters can also be custom painted to match specific trim colours. Vinyl shutters are great in areas that are high-traffic, as they won't warp, fade or crack.  Vinyl shutters don't have the same colour selection, but if you're looking for white, off-white and cream, there is a colour that will work for you.
What about areas with excess moisture?
Vinyl window shutters are going to be your best bet in areas prone to high moisture and humidity because they are not susceptible to moisture damage like wood window shutters can be. This is not to say that every bathroom, kitchen, and laundry area is a no-go for wooden shutters if that is what you really want, but you should take steps to effectively control the humidity in these rooms if you are going to go that route.
How involved is the cleaning and care of window shutters?
To get a long life from your window shutters, you should provide them with routine cleaning and care. Regular dusting with a simple duster once a week will help you avoid buildup that is more challenging to remove. If you have wood window shutters, you should not use water to clean them. Instead, use a cleaning product designed specifically for wood. You can use warm soapy water to clean vinyl window shutters or opt for a mixture of ammonia and water. Another method is to set them out on your driveway, spritz with a gentle cleaner, then rinse using the mist setting of your garden hose sprayer.
Each brand and type of window shutters has its own specific advantages, as well as cleaning and care recommendations. Here at Ashtons Blinds, we have helped our customers with their window covering needs for more than 15 years. We provide free in-home consultations to walk you through the selection process and installation of window shutters.