Let us tell you about the many advantages of motorized blinds for your home or office.
It seems like every day there is another way to make your home in The Blue Mountains, Ontario area a bit "smarter" – in other words, more functional and intuitive. Here at Ashtons Blinds, we have one more way you can upgrade your home to make your life easier. Our motorized blinds offer unparalleled convenience that can save you valuable time in your daily routine.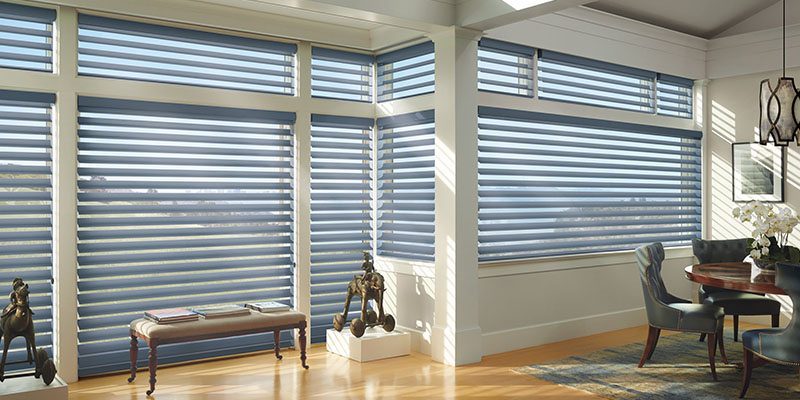 Imagine being able to open the blinds in the morning to welcome in the sunlight of a new day without having to get out of bed just yet. With the simple touch of a button, which can be done with a remote or your personal mobile device, you can enjoy a more pleasant waking experience. Motorized blinds can also be synchronized to the time of day or amount of sunlight for added convenience.
There is also a safety benefit involved with motorized blinds. Since there aren't any control cords, they are ideal in a child's room or any window you want to be safe for your pets or children. The appearance is enhanced without the visual of cords, as well.
You have plenty of options when it comes to motorized blinds. This feature is available for roller, silhouette, honeycomb, and roman blinds. In addition, wood or faux-wood blinds and even aluminum mini blinds can be enhanced with motorized tilt capabilities.
Don't worry if you have a hard-to-reach window that doesn't have a power outlet nearby, as there are several other options for powering motorized blinds, including battery and solar packs or hardwiring them.
If you would like to know more about motorized blinds, call today to schedule a free in-home or in-office consultation. With more than 20 years of experience, we are confident we can help you get the results you desire.
---
At Ashtons Blinds, we offer motorized blinds to residents of Thornbury, Collingwood, Meaford, Owen Sound, Craigleith, and The Blue Mountains, Ontario.